Slashdot It!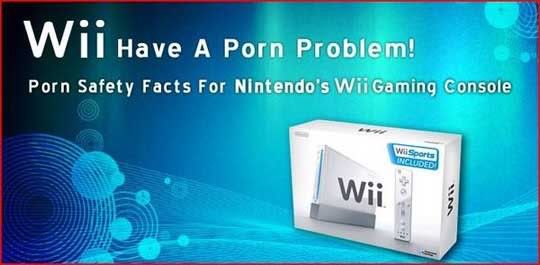 A tipster sends word that The Porn Talk, a site backed by a secretive faith-based ministry in California, is attacking Nintendo's Wii and other gaming devices, calling them "portals to porno" in a press release.
In the press release, leaked to Kotaku today, The Porn Talk founder Mike Foster does his best to stoke up some fear about the Wii saying that even though the device has parental controls, "parents don't see a need for them because they are unaware of the porn capabilities."

The Nintendo Wii gaming console has a wiittle porn problem. That's right; this seemingly innocent family game console has a dirty little secret. It has the dubious ability to access pornography via the internet and most parents are not aware of this fact according to www.ThePornTalk.com

Like many new gaming technologies, the Wii's wireless internet capabilities make it a portal to porno. "Parents think the computer is the only way for their kids to get porn on the internet. Unfortunately, they are dead wrong," says Mike Foster, founder of ThePornTalk.com. "Gaming devices like the Wii and the PSP aren't just for fun games anymore. You're able to surf the net, chat with friends, email, and view porn because of its internet access. Kids know this but parents don't!"




Wireless internet (Wi-Fi) technology allows electronic devices like Nintendo's Wii to wirelessly connect to the internet. Airports, Starbucks, schools, and even entire cities give people the opportunity to log on the internet with a Wi-Fi device like the Wii or even Sony's PSP. "This makes it very difficult to monitor as a parent. You can easily put safeguards in your house but it's impossible to monitor in a Wi-Fi world," says Foster. "Even though the Nintendo Wii has parental controls, parents don't see a need for them because they are unaware of the porn capabilities."

The Nintendo Wii has become the best-selling video game console in the United States, outselling Microsoft and Sony competitors in the month of January, 2007. Because of its success many websites have taken advantage of its online capability. Several companies have changed the look and functionality of their web sites to accommodate the Wii. The porn industry is also implementing these changes to their sites. Porn websites are taking the look of the Wii's home page and menus and modeling their own sites after them. Porn sites are even converting their video clips so that they can run on the Wii.

So the solution lies in parents getting the facts and then talking to their children about expectations for online activity. Foster believes that, "Whether it is the home computer or these new gaming consoles, porn is easily accessible. The Wii is an amazing console and tons of fun but parents need good info on how to keep kids safe."

About ThePornTalk.com ThePornTalk.com is an innovative web resource that helps parents talk to their kids about porn and internet dangers. The site features conversation starters, videos, a weekly podcast, parent's stories and other resources. Contributors to the site include child advocates, pastors, therapists, and kids themselves.